It has been a while since I've done a review. I think it's high time I did and who better to review than my good friend and mentor LightSide. I'll be referring to him as Light throughout this review; just to make things easier. This will be a fun review because Light's work is exceptional on all levels. He is a fantastic architect; a true landscaper; and last but not least and my favorite; he's a wonderful interior design.
Lets start off with one of Light's modern homes; The Modern Gambara. Light designed this home around a real existing home. First; the real one:
Light's Version:
As you can see, he did a wonderful job of imitating the design into the TS3 environment.
The interior is classic modern. The colors and textures well blended and coordinated. One thing which is important to note is the tree in the center of the building as sort of an accent. Without that tree, the architecture would be colder and indifferent. This is one of the aspects of Modernism; a moving away from a more warmer atmosphere. This doesn't have to be, if the designer knows how to use certain objects such as trees and other flora to give the needed touch of warmth. Light has an eye for warmth, color, and also light which so many times is overlooked with allot of builders. It never should be.
Lets take a look at some of the interior shots of The Modern Ganbara: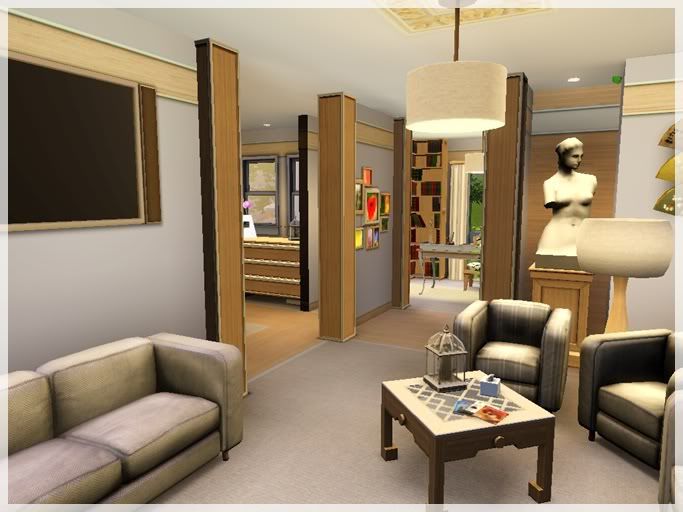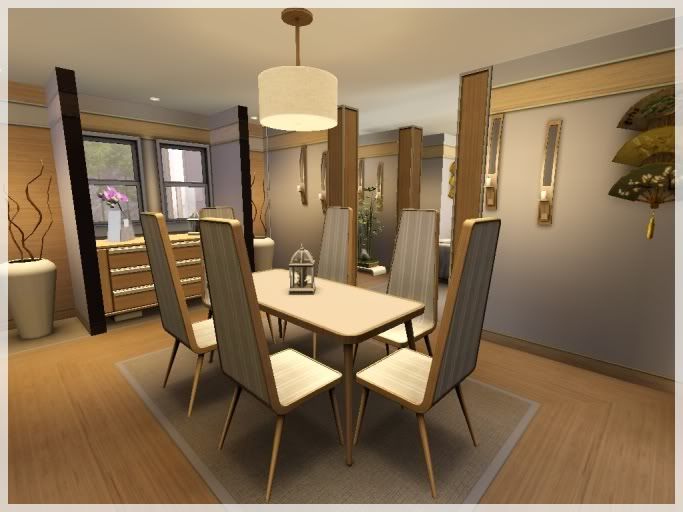 Some of the things important to notice in these two shots is for one; Light's use of columns on the corners of walls; making entry ways, but also adding some style to the overall picture of the room. The colors are subtle and warm. The lighting is well placed and the textures are soft, which go well with the warmth of both rooms. Light also knows what wall decor goes the best and where to place the right vase and statue. Too many times builders will leave an empty space on a wall that is begging for something. Light fills those spots just right; with the very items that bring the room together.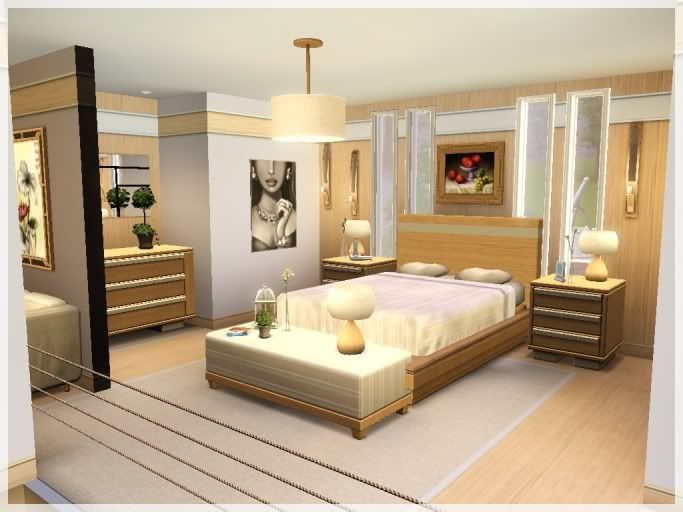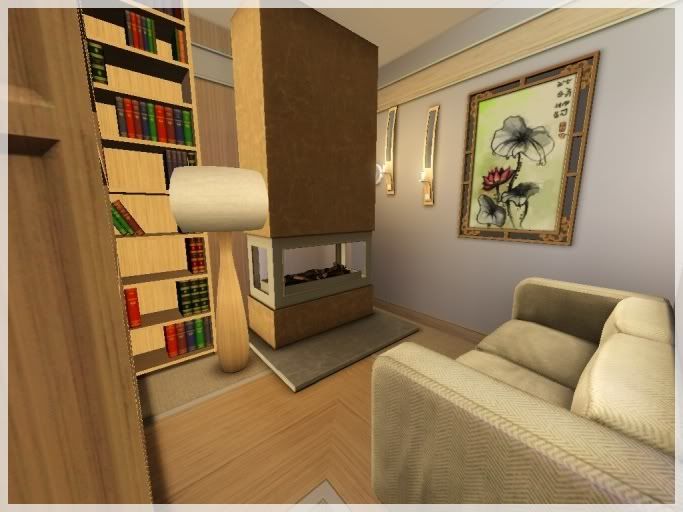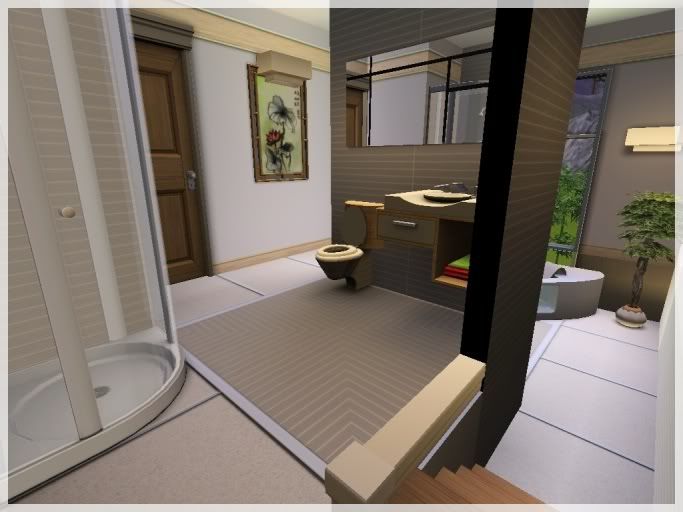 These last photos shows the consistency of the subtle colors and textures, mixed in with soft decor and perfect lighting.
To me, a bedroom should be a place you feel the most comfortable. After all, it is the place you will be visiting your dream world; so shouldn't it be a pleasant place to dream?
The structure of these rooms were well thought out; these are not just square boxes. Take for instance the bedroom; notice the partition wall that comes out by the chest of drawers. Then the bathroom which looks like it has a split level, leading down into the bathtub.
The bathroom is my favorite room. Bathrooms are so often treated as a second thought by so many builders. I suppose they give priority to a room because of it's size. When you can take a small space and make it a small oasis with just the right design, colors and textures this is what separates the true artist from those who only dabble in the arts. What I particularly like about this bathroom besides the split level which is in itself a wonderful addition; is the small area between the toilet and the shower. I take it Light used floor tiles in a creative way to give us a very subtle touch to this bathroom. A sign of pure elegance is what I call it. Something I will have to remember for my future builds.
Lets cover one more house, and a great one at that.
Asian Dreams Palace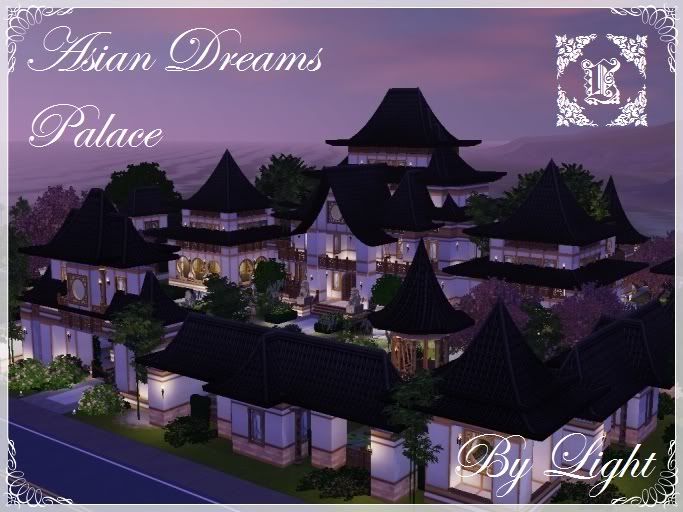 If there is any of Light's houses that I must review, it must be this one. A masterpiece of the highest order. Intricately designed; beautifully landscaped and the interior is oneof astonishing creativity.
I must also note that Light is a great photographer and covershot designer too as his covershots are always so well done. This is important for promoting one's work as I have stressed this many times in my Workshop thread.
Lets first discuss the landscaping and architecture. Everyone loves a grand entrance: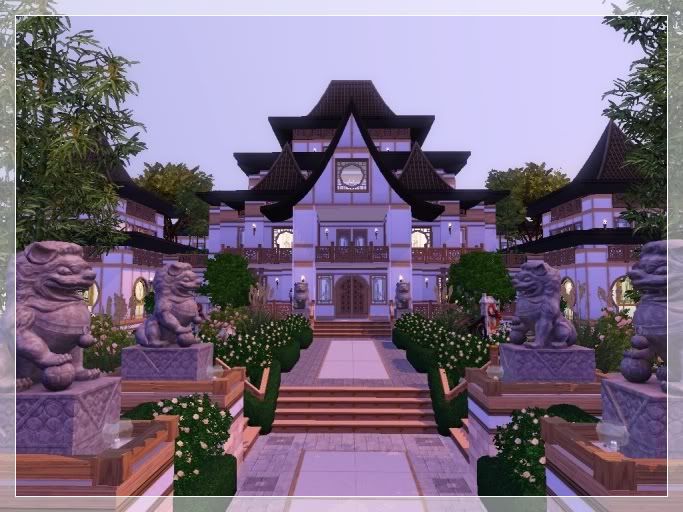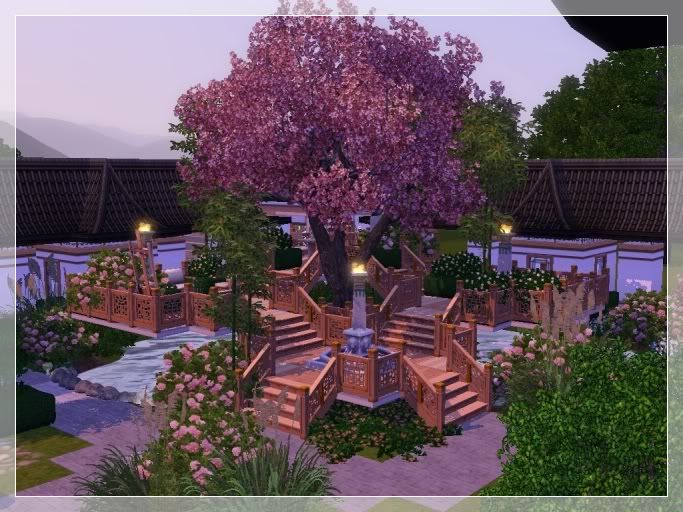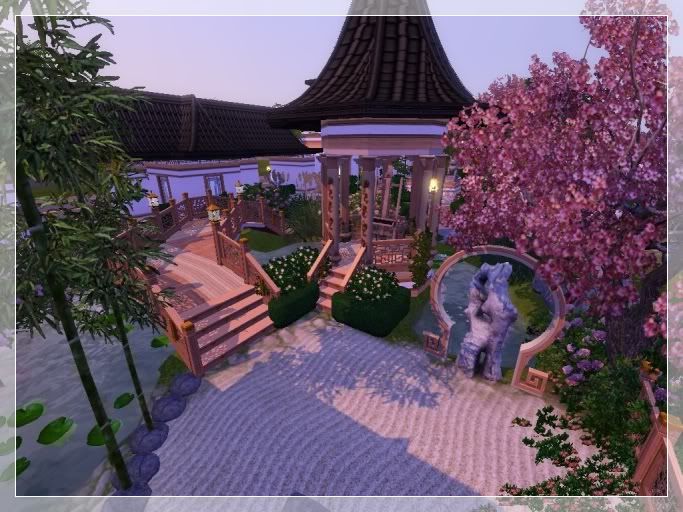 And everybody loves a beautiful garden. It's my belief that different kinds of landscaping fit different types of architecture and styles of homes. With a traditional style home, the landscaping maybe very neatly done with everything in place. Well manicured you might call it, and usually symmetrical. Moderns on the other hand should be much looser with the landscaping set up in a wild and untamed fashion. This style of home is another thing altogether. Light has combined different types of landscaping to fit the different areas around the home. The entrance is more traditional with perfect symmetry and style. The gardens are a whole different matter as one of the points of a garden is to take you closer to nature. The garden is more wild and natural, yet serene with the mix of water, flora and sand. The arched bridge and the gazebo are also nice touches to the gardens.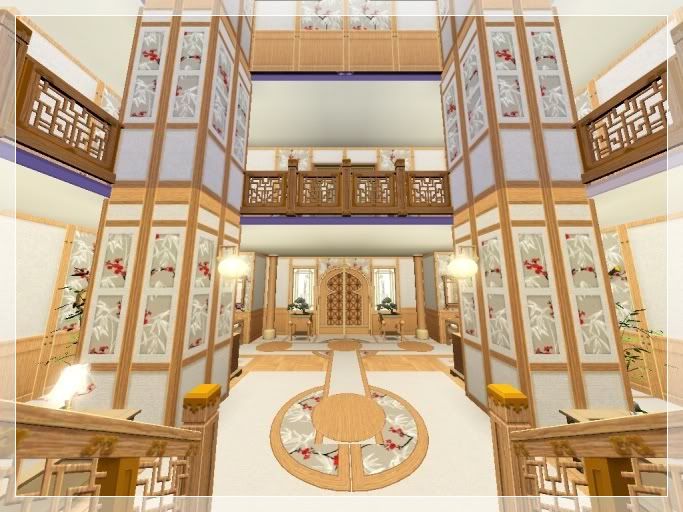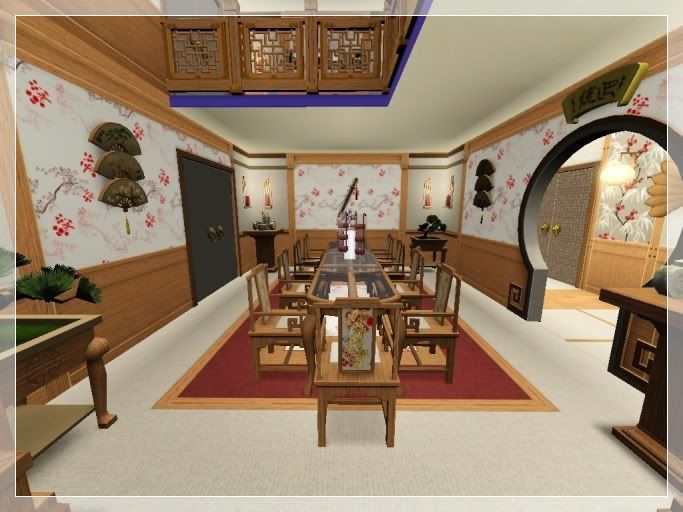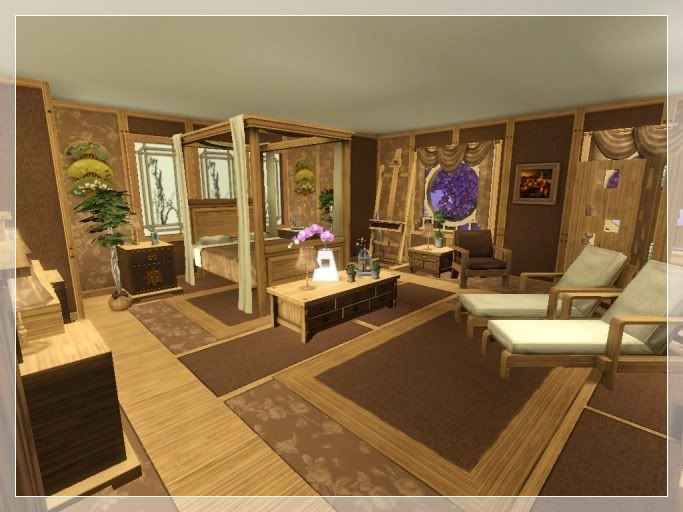 Light's ability to find what I call the "WOW" factor shows that he takes his interior design very seriously. I think what is necessary to be a great interior designer is Vision. When you can picture something in your head and then try to transfer it into your design. This is were the true artistry is. A painter will use his brushes to show color and texture and depth; creating their vision and presenting it to the world.
Light is one of those visionaries. He sees with his inner eye what he wants to see with his physical eye. And, we are only taking a peek into his dreams.
Links to Light's work:
Showcase Thread
Light's Sims 3 Studio
Light's TSR Page